Multiply your impact, multiply your fun!
Participating in the Susan G. Komen Northeastern Pennsylvania Race for the Cure® with a team increases the fun, the laughter and maybe even the tears you share on Race day. Teamwork Can Make Our Dream Work.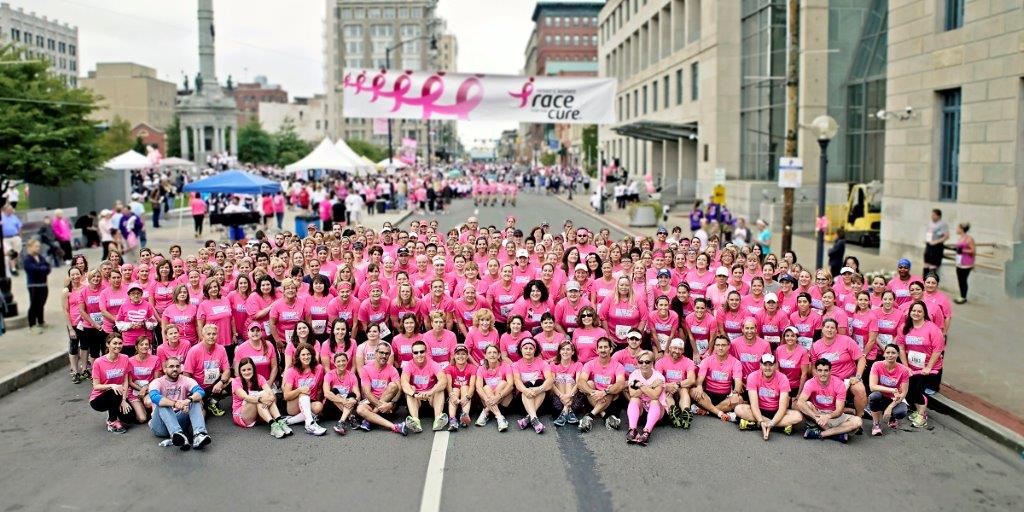 Did you know that every two minutes a new case of breast cancer is diagnosed in the US? Help us fight back by forming a team in honor or in memory of someone you know impacted or touched by breast cancer. Together you make an even greater impact than you could alone.
For more information about how to form a team click TEAMS on the top drop down and then click "Getting Started".
TEAM T-SHIRT CONTEST
Creating your own team t-shirt is a great way to tell your team's story. You can use any of the official team t-shirt insignias provided at komennepa.org or do your own thing. We ask that you refrain from wording or a design that might be considered offensive and PLEASE CHOOSE A COLOR OTHER THAN PINK. We have reserved pink t-shirts for our breast cancer survivors. T-shirts that are being entered into the Team T-shirt Competition need to be submitted no later than Friday, September 16 at 7 p.m. to Race Registration/Pick-Up at The Marketplace at Steamtown center court. Once submitted, t-shirts become the property of the Komen NEPA Affiliate, and will not be returned. T-shirts will be displayed on Race Day. We encourage participants to vote for their favorite. The t-shirt design receiving the most donations will be declared the winner. A plaque will be awarded to the team that wins the Team T-Shirt Contest, and will appear on the Komen NEPA website and Facebook pages. So get creative, and make these the best t-shirts ever!
TEAM VILLAGE
We encourage all Teams to participate in Team Village. It's just like tailgating, but a non-alcoholic meeting place for your Team the morning of the Race. Each Team can bring a pop-up tent (no stakes in the grass) and decorate it in the area right across from the Federal Courthouse on North Washington Avenue. You can have breakfast with your team and bring games for you and your team to interact with one another and play.
RACE DAY PHOTOGRAPHER
We will have a professional photographer available for Team pictures. All pictures will be posted to the KOMEN NEPA Facebook (facebook.com/thecureNEPA) page after the Race.
CORPORATE TEAM PROMO CODE REQUEST
Corporations wishing to cover a portion or entire amount of its employees registration fees please contact the Komen office at 570-969-6072 M-F 9am-2pm. Invoice will be sent after the Race.